RCA ~Universal~ Works With
All
WebTV Brands And Models!
---

....Click To Enlarge Photo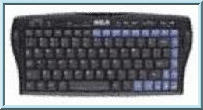 This top quality universal wireless keyboard is
Brand- New...
Not Refurbished or Remanufactured. If your keyboard has died or has sticking keys, Now is the time to replace it... or buy a SPARE... at this fantastic low price!

This is the same hard-to-find unit sold in stores for
$49.95 - $54.95.
Our Price:
$19
(+ s&h)
---
---
~~ Order Here ~~

Step One: Select Method Of Payment
---
"Step One":
Selecting from step one above sends you to the proper ordering page for your particular payment method.
---
---
Please Note: There is a Gray colored WebTV keyboard being sold by some dealers, retailing for as little as $10. We were once given the 'opportunity' to buy them in bulk for 50 cents each and we declined. We're told that many who buy these are unhappy with their quality and performance. If you are considering buying one of these Gray Keyboards, may we suggest you ask for opinions in the WebTV Discuss groups before buying one... Rather than take OUR word for it.